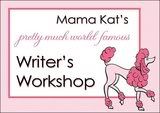 1.) Write a letter to yourself from someone who has passed on. (ie: parent, grandparent, famous person, friend, pet, etc)
(inspired by Untypically Jia)
This is the prompt I chose... It was 11 years in Feb. since my Mom passed away, it will be 6 years in Sept. for my Dad and 5 years in Aug. for my granddaughter Achaela. All mentioned in the letter.
I know this sounds like a really sad prompt to pick, but it isn't. I love talking about what a wonderful Mom I had and I love when she visits me in my dreams!
Just thought I would jot down a note for you while I was thinking about it. First I want to tell you how wonderful it is here... you can't describe in words all the love you feel!
How are you? It has been a while since I have visited you in your dreams and wanted to tell you that I am keeping an eye on you from up here in heaven. BTW, you are doing a wonderful job with your kids and your grandson and of course, your hubby! Achaela is doing great up here with Grandpa and I. She wishes she could give you a big hug and a kiss... and she does on those occasions when you are feeling down, and so am I, so remember that! She does miss her Mommy so and her little brother. Make sure you tell Candace that and tell her that her Grandma comes down and gives her hugs often. She is doing such a wonderful job with that great-grandson of mine!
I so love what your hubby is doing with your kitchen and I really love that office/library with all the built in shelving and your desk that he created for you. You are blessed with such a wonderful man! So remember that too!
Tell Dana to be careful on her new venture and that I hope she is happy moving back to California. She has a really nice young man who truly cares about her. I am so happy for that!
Oh Sharon, I miss getting to talk to you everyday, but know that prayers of love are falling down on you from all who love you up here!!
Have fun with that new job of yours and MAKE sure you take care of YOU. I know how you put everything before YOU and stop taking care of what YOU need, so your Momma is telling you (in no uncertain terms) Take Care of You!
I love you and will visit you soon in those dreams of yours. Have the coffee ready so we can sit down and have a nice long chat!
Love, Mom